Patience as a quality, as a virtue, as something we used to have, is fast disappearing.

It's all about 'Super-fast', 'lightning speed' , 'agile' . Never slow, steady and leisurely.

Everyone around is hurrying. Running off at a breakneck speed to wherever they're headed. A death race to an unknown destination seems to define our unrelenting, chaotic world.

 We fidget, dither and get agitated when things don't move at the pace we want them to.

Which makes it kind of hard when you need to wait.
Two incidents happened which got me thinking about patience and waiting.
I bought a bike last month. Have been catching up on Bangalore traffic which I had carefully avoided the last six years. A month ago, chances were, you would find me holed up in a bus or an Uber reading away happily while mere mortals honked their horns and yanked their chains trying to get ahead.
Alas, I am one of them now. Almost every other day, I am stuck in traffic for 20 – 30 minutes ( that's it?, I hear some of you saying). Point is, traffic builds frustration like no other.
Last week, I saw a young college kid almost kill himself trying to get ahead in a nasty traffic jam. Funny how this happened when all the vehicles around were moving at a speed of less than 10 km/hour.
This kid had enough of waiting 2 minutes for the traffic to clear. So he decided to test out his skill of darting between two cars, two other bikes and finally two trucks.
The last one was a bad call. In that slow traffic, neither truck drivers could spot this kid. One of them veered left to avoid a car speeding from the opposite lane (It was a service road, two-lane. Where direction and space don't exist!)
He got his leg jammed and his bike's handle stuck. Howled pretty badly. Had to be carried off the road by two people.
Not having two minutes of patience probably cost him two months of misery.
The other incident happened with a phone I got last month. The microphone doesn't work. Try surviving by talking to people through earphones with a mike. Ears hurt like hell. Not sustainable long term.
So I decided to do the inevitable. Headed over to their service center. The 'authorised' kind where if your phone is under warranty they fix it for free.
This 'free' , though, came at a price.
You are given a token and made to wait. An hour and half of waiting follows and if you get lucky, a decent engineer will take a look at your phone.
Then you wait a week. Maybe even a month before you hear back.
But waiting those 90 minutes was pure torture. I fiddled around with my phone, scanned my facebook wall, sighed a hundred times and kept looking at my watch. This irritation spilled over to that entire day.
I am guessing this has happened with quite a few of us.
In hindsight, the bike incident made me smirk about other people's lack of patience. The phone incident made me realise my own foolishness.
Which got me thinking about why we are so short of patience nowadays. Maybe it is because of:
a) Our inability to be in a state where we are required to do nothing (for what seems like eternity in our head)
b) Frustration or helplessness because we may not have any choice or control of the process or the outcome
How is one to deal with waiting then?
Honestly, I am trying to find answers myself.
One way can be using your imagination to re-frame your act of waiting.  For example, whenever I am waiting for something to happen, I imagine myself to be a spider.
A spider masterfully sitting at the center of its huge web, waiting for the prey to get stuck by itself. I need to just wait for the right moment to come and until then, relax in peace. Atleast this way, I convince myself that I have full control of the situation.
A deeper truth, may be, that patience makes us realise how little control we actually have. Makes us remember not everything around will follow our orders with a push of a button. Not every person around us can be goaded to obey.
Which means no matter how fast our outer world becomes, patience will continue to be that quality which differentiates a wise human from the average crowd. After all, a person who can master the art of patience can overcome almost anything!
Here's a profound quote to keep in mind the next time you feel a lack of patience: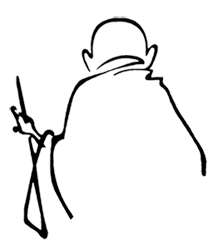 "If patience is worth anything, it must endure to the end of time. And a living faith will last in the midst of the blackest storm." – Mahatma Gandhi
Cheers!